[vc_row][vc_column][vc_column_text]
[/vc_column_text][/vc_column][/vc_row][vc_row][vc_column][vc_cta h2="" txt_align="center" style="flat" color="blue" add_button="bottom" btn_title="UPLOAD MY SCREAM PHOTO" btn_style="flat" btn_color="warning" btn_size="lg" btn_align="center" add_icon="top" btn_link="url:https%3A%2F%2Fwww.civicengagers.org%2Fstory-creator%2F%3Fstory_format%3Dgallery"]
[current_user_display_name], I said it will not be easy!
You probably heard about the famous Scream painting by the Norwegian Munch.
"The Scream" is one of the world's most recognizable works of art. It depicts a man in a private moment of anguished despair and anxiety, while the other people in the painting, perhaps his friends, seem blissfully unaware of the man's situation.
The Norwegian painter Edvard Munch (1863-1944) did several versions of "The Scream," an alter image for himself (more on this later), in oil, pastel,and litohgraph between 1893 and 1910.
The site of the painting is an overlook on the side of a road on a hill above Oslo, Norway. The hill is known as Ekeberg Hill, Ekeberg being a neighborhood of Oslo just south of the city.
Yet very few people know well where exactly this spot of painting in Oslo. Do not worry I do know it. But I will not give it so easy. You have to solve this puzzle to find the exact spot´s coordinates:
EI.I, J.GGA
When you are there, take a photo of yourself posing Scream painting there in a creative way and upload it and publish.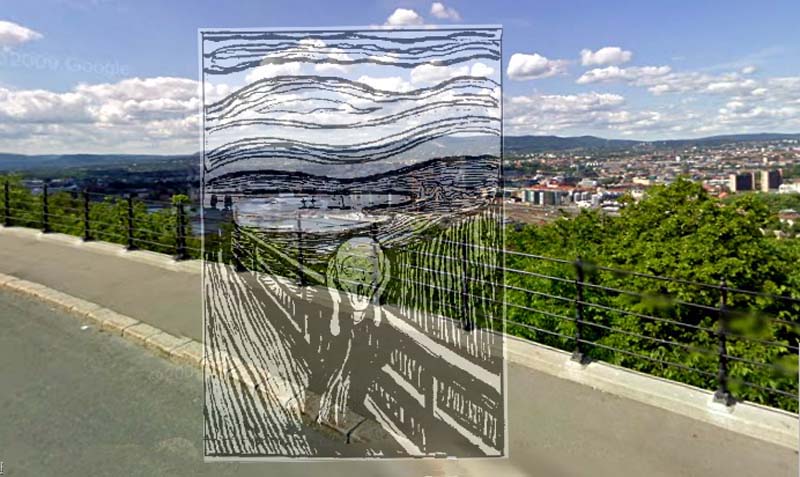 As an addition, I leave this clue for you to identify the place.
[/vc_cta][/vc_column][/vc_row][vc_row][vc_column][vc_column_text]
[/vc_column_text][/vc_column][/vc_row]